Chania, located on the Greek island of Crete, has a rich and diverse history dating back thousands of years. The city has been inhabited since the Neolithic period, and evidence of ancient civilizations remains.
One of Chania's most significant historical periods was during the Minoan civilization, which thrived on Crete from around 2700 to 1450 BCE. Chania was an important Minoan settlement known as Kydonia and was a prosperous trading centre of its time. The archaeological site of ancient Kydonia can still be visited, offering a glimpse into this ancient civilization.
After the decline of the Minoans, Chania came under the rule of various powers throughout the centuries. The Mycenaeans, Dorians, Romans, and Byzantines successively occupied it. Each civilization left its mark on the city, with notable structures and artefacts still standing today.
In the 13th century, Chania came under Venetian rule and experienced growth and prosperity. The Venetians fortified the city, constructing impressive walls and buildings that still adorn the old town. With its iconic lighthouse and picturesque waterfront, the Venetian Harbour remains one of Chania's most popular attractions.
However, in the 17th century, the Ottoman Empire conquered Chania, ushering in a new occupation era. Many Venetian buildings were converted into mosques, and the city adapted to Ottoman influence. The Turkish influence can still be seen in the old town's architectural styles and narrow, winding streets.
The modern history of Chania is also intertwined with the turbulent times of World War II. Chania was heavily bombed during the Battle of Crete in 1941 and suffered significant destruction. However, the city has since been rebuilt, preserving its historical charm and embracing modern developments.
Today, Chania is a thriving tourist destination that attracts visitors worldwide. Its history is evident in every corner of the city, from its ancient ruins and Venetian architecture to Turkish baths and Byzantine churches. Chania's rich and diverse past continues to shape its present-day identity, making it a fascinating place to explore and immerse oneself in history.

Things to know before you go to Chania, Crete
Visa for Greece
Check that you do not require a visa for Greece. The visa website is a quick and easy way to check whether your passport requires a permit.
Travel insurance for Greece
SafetyWing is the World's first International Travel Medical Insurance developed to meet the needs of entrepreneurs and remote workers travelling or living abroad. However, if you do not fall under this category, do not worry; SafetyWing also suits all vacation types.
The best time to travel to Crete
The best time to travel to Crete is during the months of April to October when the weather is warm and sunny, and the island's numerous beaches, like Balos Beach and historic sites, such as the old Venetian harbour, can be enjoyed to the fullest.
Tipping in Greece
Tipping in Greece is not as common as it is in other countries, but it is generally appreciated to leave a small tip of around 5-10% for good service in restaurants or cafes.
Language
The official language in Greece is Greek, which is spoken by the majority of the population and holds significant historical and cultural importance in the country.
Currency
The conversion rate at the time of writing this article is 1 Euro = 1.65 Singapore dollars.
How to get to Chania
You can fly to Chania from Singapore via Athens, which takes approximately 11 hours to Athens and then 1 hour to the island of Crete. Only one airline flies directly to Athens, which is Scoot. However, flying domestically to Chania includes Aegean Airlines, Olympic Air, and Ryanair.
Ferry – You can also take a ferry from Athens which will take approximately 8-8.5 hours via the ferry scanner here.
Helicopter – You also have the luxury of a Helicopter from Athens which takes about 45 minutes and is the most bouji way to start your vacation.
Transport: The drive time from Chania Airport to the Old Port is approximately 15 minutes
Hiring a car: is your best option if you plan to spend a few days here and want to do it at your own pace.
Tour: You can always hire a guide from Chania and spend the day visiting neighbouring towns
Bus: You can also catch a bus from Chania Airport, the most affordable way to get downtown.
Private Transfer: this is the easiest way to get from the airport and Port to downtown, but it is probably the most expensive.
Five of the best things to do in Chania for first-timers
1. Explore the Old Town:
The Old Town of Chania is like stepping back in time with its narrow streets, Venetian and Ottoman architectural influences, and historical sites. Stroll through the charming alleys, visit the magnificent Venetian Harbor, and discover hidden gems like the Mosque of the Janissaries and the Archaeological Museum of Chania.
2. Visit the Chania Archaeological Museum:
History enthusiasts will be delighted by the exceptional collection of ancient artefacts on display at the Chania Archaeological Museum. From Minoan pottery to Roman sculptures, this museum offers a fascinating insight into the island's rich history.
3. Relax at the Balos Lagoon:
Just a short boat trip from Chania lies the enchanting Balos Lagoon. This exotic paradise is known for its turquoise waters, white sandy beaches, and unique natural surroundings. Spend a day soaking up the sun, snorkelling in the crystal-clear waters, and marvelling at the breathtaking scenery.
4. Hike the Samaria Gorge:
Adventure seekers should take advantage of the opportunity to embark on the renowned hike through the Samaria Gorge. This 16-kilometre trail is a stunning journey through rugged terrain, towering cliffs, and lush vegetation. The highlight of the hike is reaching the end point at Agia Roumeli, where you can reward yourself with a refreshing dip in the Libyan Sea.
5. Taste Traditional Cretan Dishes:
Indulge in the delectable flavours of Cretan cuisine, renowned for its freshness and Mediterranean influences. With an abundance of tavernas and local establishments, Chania is the perfect place to savour traditional dishes such as dakos (a Cretan salad), kaltsounia (cheese pies), and raki (a local alcoholic beverage). Visit the bustling Municipal Market and treat yourself to local produce, cheeses, and aromatic herbs.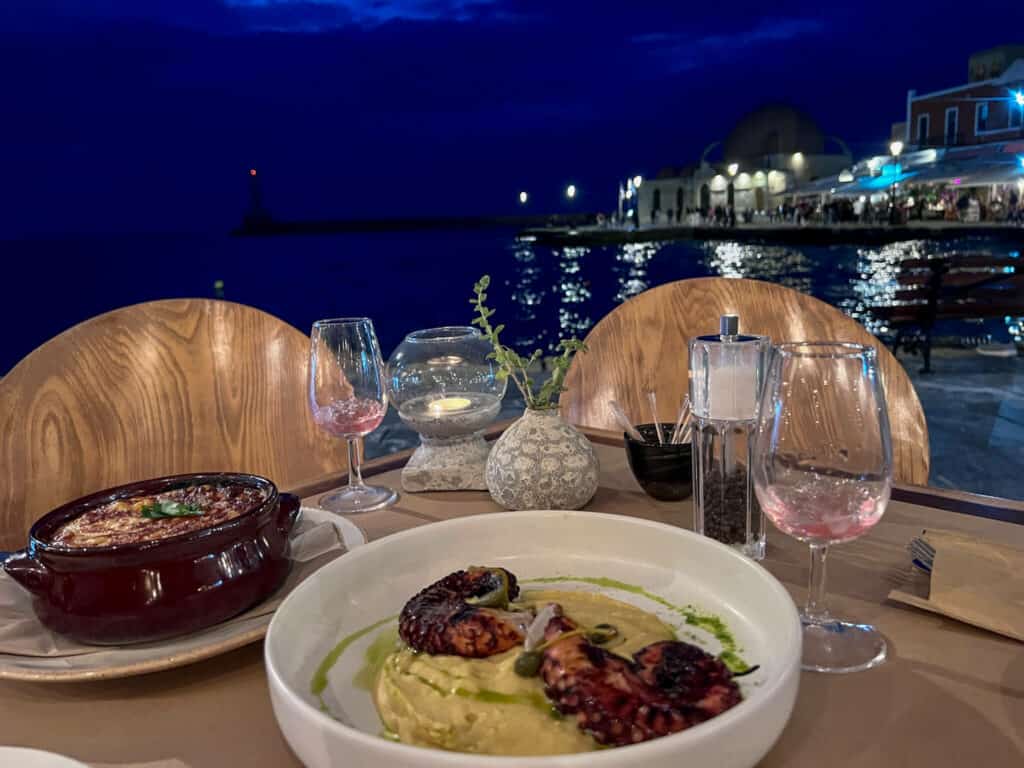 Whether you're seeking history, adventure, natural beauty or gastronomic delights, Chania has something to offer every visitor.
Hotel Recommendation
Samaria Hotel
The Samaria Hotel is a great hotel nestled in the city's heart. Its prime location offers views of the surrounding landmarks and provides easy access to various attractions and entertainment options for its guests.
The hotel boasts a wide range of comfortable and well-appointed rooms and suites. The spacious rooms offer ample space for relaxation and rejuvenation after a long day of exploring Chania.
Thanks for taking the time to read my blog. This post has given you the information you need. If you have any recommendations, tips or advice, I would love for you to share them in the comment section below!
Pin It for later!
This post may contain affiliate links, which means we may receive a commission at no extra cost if you purchase through a link. Please see our full disclosure for further information.
Check out my Instagram page here or join the Truly Expat Facebook group here. 
Would you like to read about Europe?