Tokyo is a place that is high on everyone's bucket list! If you have been before and ticked off all the usual tourist places, such as Tokyo Tower and Asakusa, and you have checked out the many day trips!  Then, it is time to start experiencing something a little more; this article will help you explore 5 hidden gems that are a must for your next Japanese cultural experience.
Things to know before you go to Tokyo
Visa for Japan
Check that you do not require a visa for Japan. The visa website is a quick and easy way to check whether your passport requires a permit.
Travel Insurance for Japan
SafetyWing is the World's first International Travel Medical Insurance developed to meet the needs of entrepreneurs and remote workers travelling or living abroad. However, if you do not fall under this category, do not worry; SafetyWing also suits all vacation types.
The best time to travel to Tokyo
The best time to visit Tokyo is spring (March to May) and autumn (September to November). During spring, Tokyo experiences pleasant weather, with cherry blossoms in full bloom, turning the city into a picturesque landscape. Visiting Tokyo this time of year is always popular for everyone to enjoy hanami (cherry blossom viewing) in parks and along the riverside.
The Other option is In autumn, Tokyo showcases vibrant colours as the leaves turn into shades of red, orange, and gold. The mild weather makes exploring the city comfortable and visiting various outdoor attractions, like gardens and parks.
Tipping in Japan
In Japan, tipping is not a common practice and can be considered rude or inappropriate in certain situations. Generally, excellent service is expected and included in the price of goods or services. Japanese hospitality is deeply rooted in the culture, and the service is already high quality. Attempting to tip may cause confusion or embarrassment for the recipient. However, if you want to show appreciation for exceptional service, a polite thank you or a compliment to the staff is more than enough.
Currency in Japan
The Japanese Yen (¥) is the official currency in Japan. While credit cards are accepted in many places, having cash on hand is wise, especially when visiting smaller shops, street vendors or participating in cultural experiences. Remember to check the current exchange rates before your trip, and consider using a currency exchange service for the best rates. Additionally, notify your bank or credit card provider about travel plans to avoid transaction issues in Japan. With the correct currency prepared, you'll be ready to enjoy your visit to this enchanting city.
How to get to Tokyo
Various airlines operating this route make flying from Singapore to Tokyo convenient. One of the major airlines that serves this journey is Singapore Airlines. Known for its excellent service and luxurious travel experience, Singapore Airlines offers flights from Singapore Changi Airport to Tokyo's two main airports, Narita International Airport and Haneda Airport.
The travel time between Singapore and Tokyo depends on the flight route and the chosen airport. The non-stop flights between the two cities usually take 6 to 7 hours.
Narita International Airport, located about 60 kilometres east of Tokyo, is the primary airport for international flights. It offers excellent connectivity to various parts of the city through efficient transportation systems.
On the other hand, Haneda Airport is closer to central Tokyo, making it a more convenient choice for travellers. This airport offers a wide range of domestic and international flights, ensuring easy connectivity to various destinations in Japan and beyond.
Transport: You can order a private transfer here. The drive time from Narita International Airport to downtown Tokyo is 1.5 hours, and from Haneda is approximately 40 minutes.
Train: The journey from Haneda Airport to Tokyo typically takes around 30-40 minutes, depending on the specific station you are travelling to within Tokyo. Haneda Airport is conveniently connected to Tokyo's city centre through various transportation options, including the Tokyo Monorail and Keikyu Line. These train services offer frequent departures, making it easy for you to reach your destination.
On the other hand, the train journey from Narita Airport to Tokyo generally takes longer, lasting approximately 55-70 minutes. Narita Airport is significantly farther from Tokyo's city centre than Haneda Airport. However, several train options are available to passengers to facilitate their travel. The fastest and most popular train service for this route is the Narita Express (N'EX), which directly provides quick and comfortable transportation to major Tokyo stations like Tokyo Station and Shinjuku Station.
Bus: Catching a bus from Haneda International Airport to Tokyo is convenient. The airport operates multiple bus services connecting passengers to various Tokyo destinations. These buses have comfortable seating and ample luggage space, ensuring a pleasant journey. The bus routes are well-marked, and staff members at the airport are available to assist passengers with any queries or concerns.
Similarly, catching a bus to Tokyo is popular for those arriving at Narita International Airport. The airport offers a wide range of bus services catering to different areas within Tokyo. With regular departure times, affordable fares, and dedicated bus stops, you can easily reach your desired location in Tokyo from both Haneda and Narita Airports.
Hiring a car is also an option if you plan to spend a few days here and want to do it at your own pace.
Tip – Purchase a Japan rail pass for 7, 14, or 21 Days, which makes getting around Japan more convenient as you have Unlimited Travel Access to JR Lines airport railways, including Narita, Kansai, New Chitose, JR buses, and more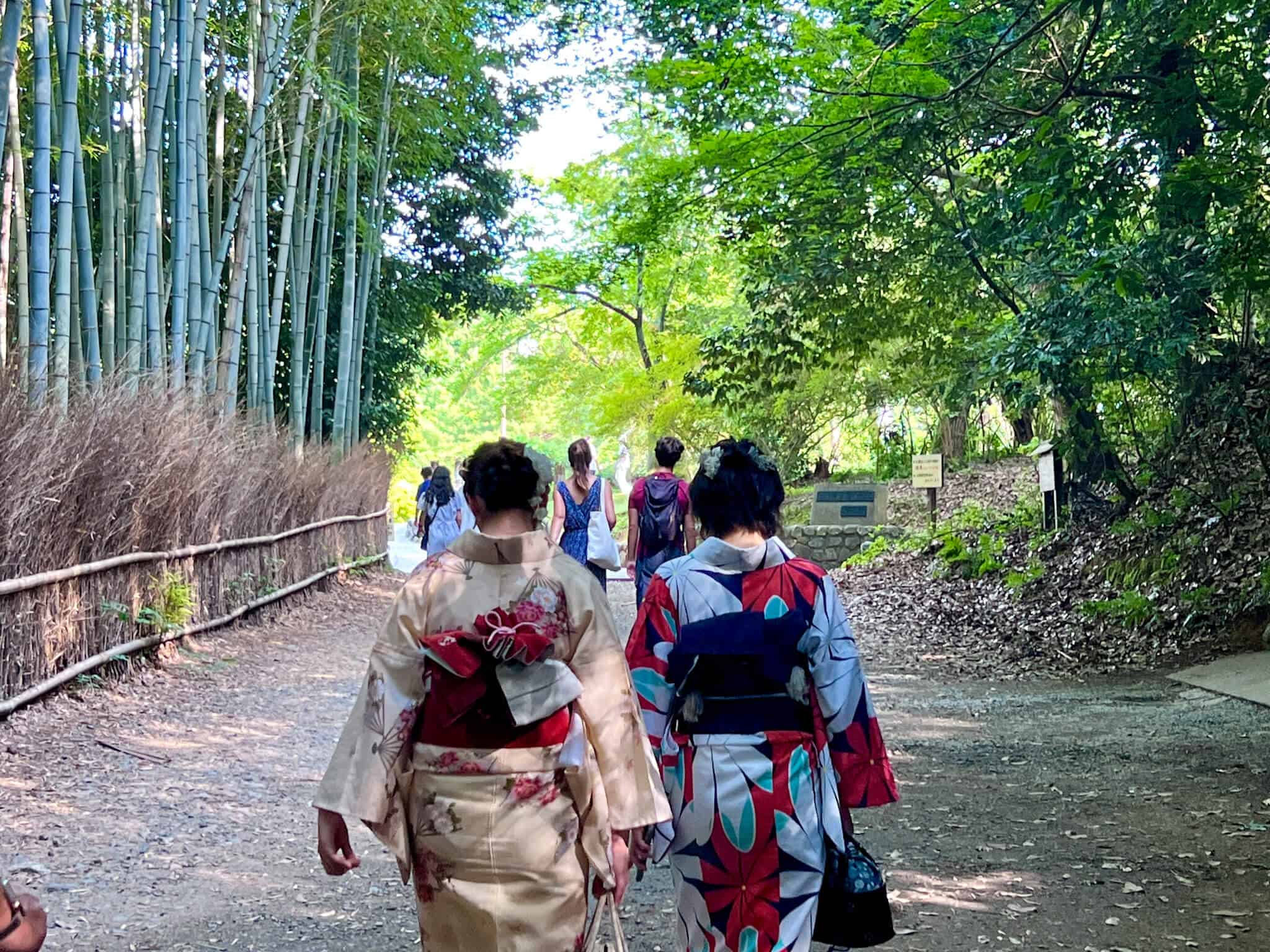 Tokyo, Japan's bustling capital, is a city of endless surprises and hidden treasures waiting to be discovered. Beyond the renowned attractions like Tokyo Tower and the Tsukiji Fish Market lies a tapestry of lesser-known but equally enchanting spots. From traditional shopping streets to serene temples, these hidden gems offer a glimpse into Tokyo's rich cultural tapestry. Here are five hidden gems that promise a unique and immersive experience in this vibrant metropolis.
5 Hidden Gems of Tokyo
1. Yanaka Ginza Shopping Street: A Taste of Old Tokyo
Nestled in the Yanaka district, Yanaka Ginza Shopping Street is a delightful throwback to Tokyo's past. This charming avenue exudes an Edo-period ambience, with traditional shops and eateries lining the cobblestone streets. Stroll through the narrow alleys and immerse yourself in the timeless atmosphere. Explore quaint stores offering everything from handmade crafts to local snacks. Remember to savour some taiyaki, a fish-shaped cake filled with sweet red bean paste, for a truly authentic Tokyo treat. 
Travel Tip: Visit in the early afternoon to avoid the crowds and experience the street leisurely. Yanaka's Old Town Walking Tour is a popular walking tour introducing Yanaka and the surrounding neighbourhood. Experience the different sides of Tokyo, visit hidden local spots and try local food and drinks.
2. Jimbocho Book Town: A Haven for Bibliophiles
For book lovers, Jimbocho Book Town is a paradise waiting to be explored. Tucked away near Tokyo's central business district, this area boasts a staggering number of new and second-hand bookstores. Whether you're hunting for rare editions or browsing through vintage volumes, Jimbocho has something for every literary enthusiast. The cozy cafes sprinkled amidst the bookshops provide the perfect nook to enjoy your newfound treasures.
Travel Tip: Plan your visit on a weekday to enjoy a more relaxed browsing experience. Hanamaru Udon is a health-oriented chain of udon restaurants based on a type of udon originating in Kagawa – the udon and tempura here are both affordable and delicious and are highly recommended for a lunch or dinner stop.
3. Nezu Shrine: A Tranquil Oasis in Central Tokyo
Amidst the urban hustle and bustle, Nezu Shrine offers a serene escape. Located in the Bunkyo ward, this hidden gem is known for its picturesque vermilion torii gates and lush greenery. Stroll through the tranquil grounds, admiring the vibrant and lush azalea bushes that bloom in spring. The well-preserved architecture and serene atmosphere provide a glimpse into traditional Japanese spirituality. Something to note is that the Nezu Shrine is inspired by Nikko's Toshogu Shrine in Tochigi Prefecture. Both shrines feature elaborate gilded detail and colourful motifs. It's like getting a taste of ancient Japan right in the heart of modern-day Tokyo.
Travel Tip:
Combine your visit to Nezu Shrine with a stop at the nearby Ueno Park for a full day of cultural immersion.

Go for lunch at a maid cafe in nearby Akihabara.

Hit up Shinjuku for drinks afterwards.
4. Shin-Okubo: Seoul in Tokyo
Step into Shin-Okubo, Tokyo's own "Koreatown," for a unique cultural experience. Located just a stone's throw away from bustling Shinjuku, this vibrant neighbourhood is a haven for Korean culture enthusiasts. Explore the myriad of Korean shops, indulge in authentic cuisine, and picturesque cafes such as 2D Cafe and  Seoul Cafe, which serve the signature snow ice dessert. Visit the Kaichu Inari Shrine, originally established in 1533 by a group of Samurai Soldiers who served the Tokugawa Shogunate. If you're feeling tired, go for a Korugi Massage – a traditional Korean massage at Kan-no Hogushi or Tamoa. Whether you're a fan of K-pop or simply looking to experience a slice of Seoul in Tokyo, Shin-Okubo is a must-visit.
Travel Tip: Visit in the evening to experience the district at its liveliest, with neon signs illuminating the streets and dine at the signature Korean barbeque restaurants to complete your Shin-Okubo experience on a delicious note.
5. Shibuya Station's Hachiko Square: Beyond the Famous Statue
While Shibuya Crossing is an iconic sight, venture a bit further to uncover the heartwarming story of Hachiko. Adjacent to the famous crossing is Hachiko Square, where a bronze statue immortalizes Japan's most loyal dog. This hidden gem provides a touching reminder of loyalty and devotion. Join the locals as they pay homage to Hachiko, a symbol of unwavering dedication.
Travel Tip: Visit early in the morning or late at night for a more intimate experience with the statue.
In a city as vast and diverse as Tokyo, there's always more than meets the eye. These hidden gems offer a chance to delve deeper into the city's culture and history, providing a unique perspective for intrepid travellers. So, set aside some time to explore these off-the-beaten-path treasures, and let Tokyo's hidden wonders unfold before you.
Hotel Recommendations in Tokyo
Shibuya Excel Hotel Tokyu
Shibuya Excel Hotel Tokyu is a modern hotel situated in the heart of Tokyo's vibrant Shibuya district. With its convenient location just a few steps from Shibuya Station, guests can easily access the city's major attractions, shopping districts, and entertainment venues. You can indulge in various dining options at the hotel's restaurants, serving a range of cuisines from traditional Japanese to international dishes. The rooftop bar offers spectacular views of Shibuya's bustling streets and is the perfect spot to unwind with a drink.
City Hideout
City Hideout Hotel in Shinjuku is a trendy and stylish accommodation choice for those seeking a unique and contemporary experience in the heart of Tokyo. Located in the vibrant area of Shinjuku, the hotel offers easy access to many shops, restaurants, and entertainment options. The rooms are thoughtfully designed with modern amenities and sleek furnishings, ensuring comfort and relaxation. With its convenient location, impeccable service, and chic atmosphere, City Hideout Hotel is an ideal choice for those looking for a memorable stay in the bustling city of Tokyo.
Hakusan House
Hakusan House is a charming and cozy guesthouse located in Bunkyo. Situated in the peaceful Hakusan neighbourhood, it offers a serene atmosphere that allows guests to unwind from the hustle and bustle of the city. The house features traditional Japanese architecture, with tatami rooms and sliding doors that provide an authentic cultural experience. With comfortable and well-appointed rooms, guests can enjoy a relaxing stay while immersing themselves in Japanese traditions. Hakusan House is conveniently located near various attractions, shopping districts, and transportation hubs, making it an ideal base for exploring Tokyo.
Sotetsu Fresa Inn Ochanomizu Jimbocho
Sotetsu Fresa Inn Ochanomizu Jimbocho is a 4-minute walk from Jimbocho Subway Station. This hotel has a private onsen, friendly staff, and a small restaurant and cafe. The rooms and classic authentic Japanese design are simple and elegant in a quiet neighbourhood, with a 24-hour front desk and free luggage storage services. 
Koko Hotle Ginza-1chome
Koko Hotel Ginza-1chome is 90 metres from Antique Mall Ginza and 200 metres from Pola Museum Annex. This boutique hotel offers a shared lounge, a 24-hour front desk and free WiFi. The hotel location is perfect for exploring Tokyo's significant sites. With a minimalistic design, the rooms have everything you need to make your stay a comfortable one; although the rooms are small, they have all the essential comforts you expect from a boutique hotel in Japan, 
Thanks for taking the time to read this article. I hope this post has given you the information you need. If you have any recommendations, tips or advice, I would love for you to share them in the comment section below!
This post may contain affiliate links, meaning we may receive a commission at no extra cost if you purchase through a link. Please see our full disclosure for further information.
Check out my Instagram page or join the Truly Expat Facebook group. 
Pin it for later.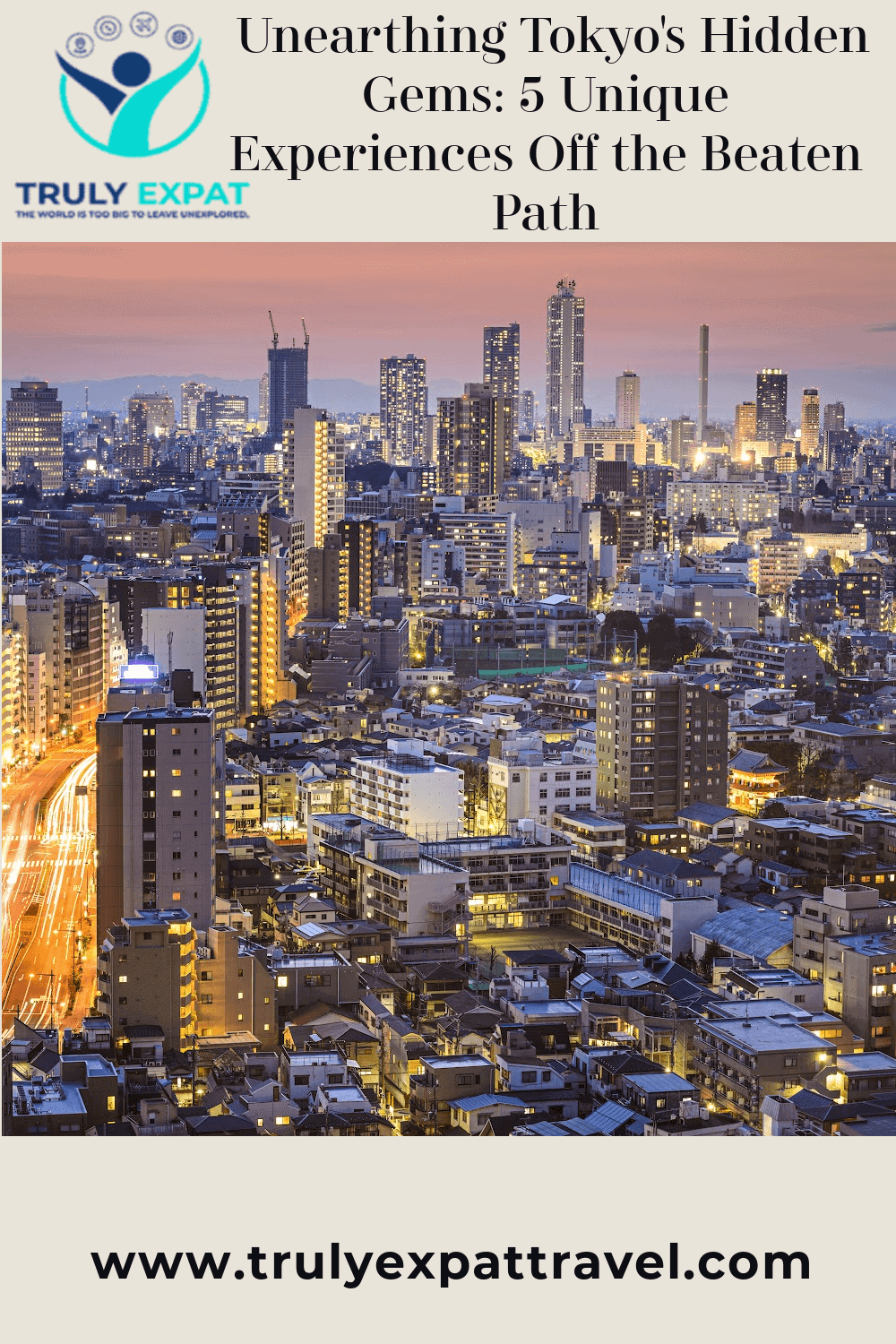 You may also like
"Unveiling the Best of Osaka: A Four-Day Journey through History, Culture, and Culinary Delights"