Kyoto is a city steeped in history, culture, and natural beauty – Japan's heart and soul which served as the capital of Japan for over 1000 years before its modern counterpart – Tokyo took over. It is also a UNESCO World Heritage site boasting an array of must-see attractions. 
If you visit Kyoto, plan to stay for a minimum of 3-4 days to take in as much of the culture, beauty and nature as you can. 
Things you should know before going to Kyoto
Visa for Japan
Check that you do not require a visa for Japan. The visa website is a quick and easy way to check whether your passport requires a permit.
Travel Insurance for Japan
SafetyWing is the World's first International Travel Medical Insurance developed to meet the needs of entrepreneurs and remote workers travelling or living abroad. However, if you do not fall under this category, do not worry; SafetyWing also suits all vacation types.
The best time to travel to Kyoto
The best time to visit Kyoto is during the Cherry Blossom Season from late March to Early April. The weather is typically mild, with temperatures ranging from 10°C to 18°C (50°F to 64°F). Light layers and comfortable walking shoes are recommended. During this magical time the city's parks and temples come alive with delicate pink blooms, creating a picturesque atmosphere. Don't miss spots like Maruyama Park, Philosopher's Path, and Kiyomizu-dera for breathtaking views. 
Another wonderful time to visit Kyoto is during the Autumn Foliage Season from late October to Early December when Kyoto's landscapes transform into a canvas of red, orange, and gold. The weather is cool and comfortable, with temperatures ranging from 10°C to 20°C (50°F to 68°F). Layers and a light jacket are recommended. This season offers stunning displays of autumn foliage (koyo) at iconic spots like Kiyomizu-dera, Arashiyama, and Tofuku-ji. The city exudes a peaceful, serene atmosphere, making it ideal for leisurely strolls and temple visits.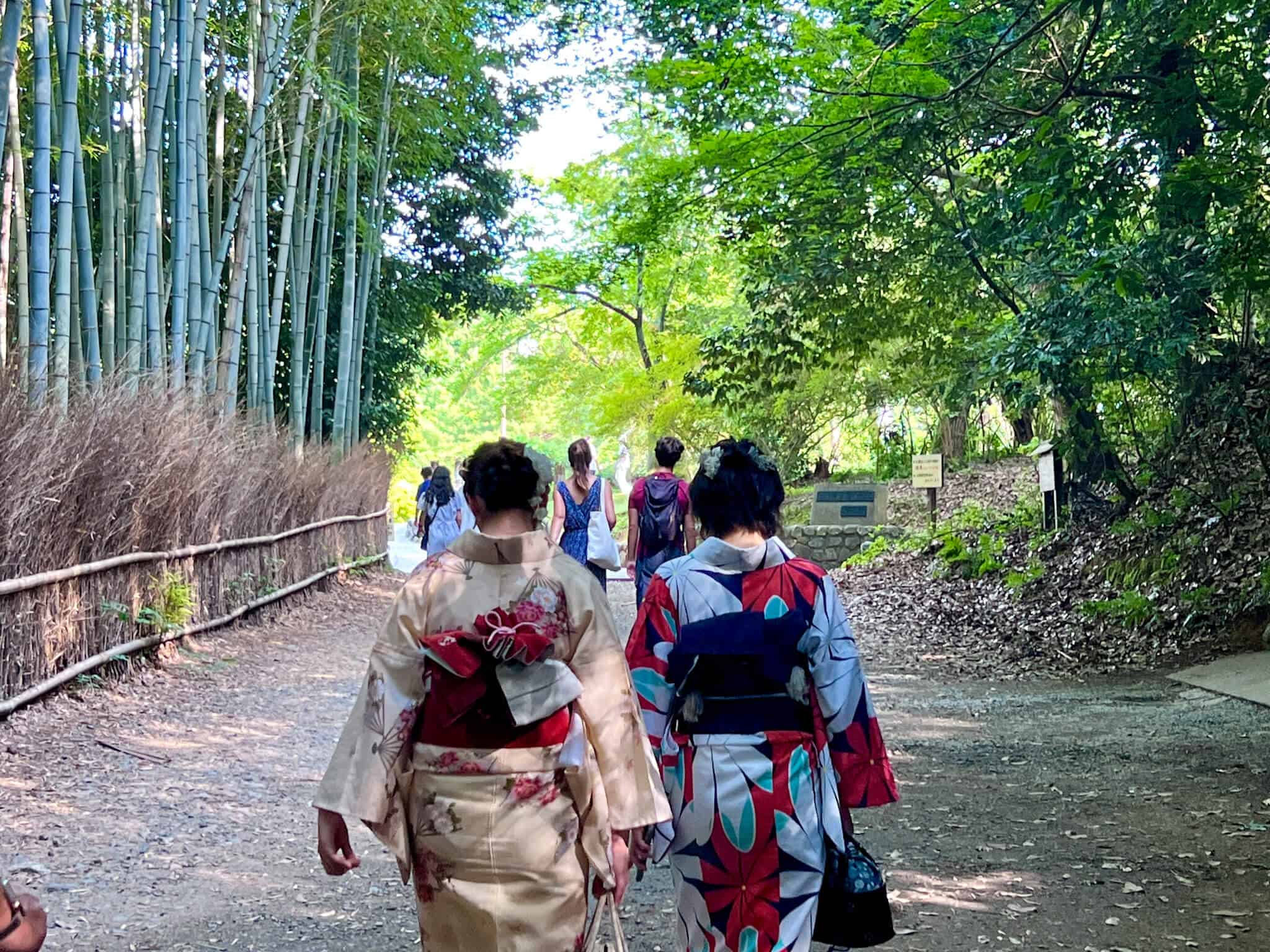 Tipping in Japan
In Japan, tipping is not a common practice and can actually be considered rude or inappropriate in certain situations. Generally, excellent service is expected and included in the price of goods or services. Japanese hospitality is deeply rooted in the culture, and the service provided is already of high quality. Attempting to tip may cause confusion or embarrassment for the recipient. However, if you really want to show appreciation for exceptional service, a polite thank you, or a compliment to the staff is more than enough.
Currency in Japan
The Japanese Yen (¥) is the official currency in Kyoto. While credit cards are accepted in many places, it's wise to have some cash on hand, especially when visiting smaller shops, street vendors, or participating in cultural experiences.
Remember to check the current exchange rates before your trip, and consider using a currency exchange service for the best rates. Additionally, notify your bank or credit card provider about your travel plans to avoid any issues with transactions while in Kyoto. With the right currency prepared, you'll be ready to fully enjoy your visit to this enchanting city, whether you're captivated by cherry blossoms or the fiery hues of autumn leaves.
How to get to Kyoto
You can fly to Osaka directly from Singapore in approximately 6.5 hours with many airlines, including  Singapore Airlines, Scoot, Jetstar Asia Airways, Japan Airlines and ANA.
Transport: You can order a private transfer here. The drive time from Kansai International Airport to downtown Osaka is just under 1 hour.
Train or bus: From Kansai International Airport (KIX) to Kyoto, the travel time by train and bus typically takes just over an hour. However if you decide you can hop on the Shinkansen bullet train from Shin Osaka Station to Kyoto city which will get you there in 15 mins. Once you arrive, navigating this enchanting city is easy thanks to the well-developed and efficient transport options from Kyoto Station including JR trains, privately-operated railways and bus lines. 
Travel times may vary slightly based on train schedules and traffic conditions.
Hiring a car is also an option if you plan to spend a few days here and want to do it at your own pace.
With its plethora of world heritage sites and opportunities to immerse in traditional Japanese culture, Kyoto promises an unforgettable experience. In this guide, we'll unveil the top five activities you can include in your itinerary to have an epic adventure in the heart of Japan.
Five must-do activities in Kyoto
Explore the Fushimi Inari Shrine
Your Kyoto adventure begins at the iconic Fushimi Inari Shrine, a UNESCO World Heritage site. Located just a short train ride from Kyoto Station, it's easily accessible. Upon arrival, you'll encounter thousands of Vermilion torii gates that wind through the forested hillside, creating a mesmerizing pathway. The hike to the summit offers stunning panoramic views of Kyoto and provides ample opportunities for breathtaking photos. Don't forget to pay a visit to the Inari Taisha Shrine, located at the base of the mountain.
*Practical Tip:* Visit early in the morning during cherry blossom season (between March and May) for an awe-inspiring experience. Remember to wear comfortable shoes for the hike and carry some yen for offerings.
Participate in a Traditional Tea Ceremony
Immerse yourself in the heart of Japanese culture by participating in a Traditional Tea Cermony. Kyoto is renowned for its tea culture, and you can experience a traditional tea ceremony explained in English at a variety of venues scattered throughout the city. Engage with a tea master who will guide you through the meticulous process of preparing and savoring matcha, a powdered green tea. The ceremony offers a moment of reflection and connection to the city's rich traditions.
*Practical Tip:* Book in advance to secure a spot, as tea ceremonies tend to fill up quickly. Don't forget to arrive a few minutes early to show respect for the ceremony's punctuality.

Stroll Through the Arashiyama Bamboo Grove
Step into a fairytale world at the Arashiyama Bamboo Grove, a natural wonderland located just 7km west of downtown Kyoto. From Kyoto Station, a short train ride and a 15-minute walk will lead you to this mesmerizing bamboo forest. Towering bamboo stalks form a mesmerizing canopy, casting dappled sunlight on the forest floor. The serenity of this place is palpable, making it an ideal spot for a leisurely stroll or some quiet contemplation.
*Practical Tip:* Visit early in the morning or late in the afternoon to avoid the midday crowds. Combine your visit with a trip to the nearby Tenryu-ji Temple and its stunning Zen garden.
Wander Through Gion's Historic Streets
Gion, Kyoto's historic geisha district, exudes an old-world charm that transports you back in time. A short walk from the city center, this district offers a glimpse into traditional Japanese life. Wander through its narrow cobblestone streets lined with traditional wooden machiya houses, and you may catch a glimpse of geisha or maiko gracefully making their way to appointments. Explore quaint boutiques, sample local delicacies, and soak in the ambiance of this timeless quarter.
*Practical Tip:* Visit in the early evening for the best chance to spot geisha and maiko. Be respectful and discreet when trying to capture their photos.
Experience the Nishiki Market
For a true taste of Kyoto's culinary heritage, head to the Nishiki Market, often referred to as "Kyoto's Kitchen." This bustling market is a food lover's paradise, offering a wide array of fresh produce, traditional snacks, and local delicacies. Indulge in mouth watering street food, sample pickled vegetables, and pick up unique souvenirs to remember your visit.
*Practical Tip:* Come hungry and be prepared to sample a variety of dishes. Cash is preferred at many stalls, so make sure to have some on hand.
Kyoto is a treasure trove of experiences waiting to be uncovered. From the serene Fushimi Inari Shrine to the lively Nishiki Market, each activity offers a unique glimpse into the city's rich cultural tapestry. Embrace the opportunity to immerse yourself in Kyoto's history, traditions, and natural beauty, and you're sure to leave with memories that will last a lifetime. Happy exploring!
Thanks for taking the time to read this article. I hope this post has given you the information you need. If you have any recommendations, tips or advice, I would love for you to share them in the comment section below!
This post may contain affiliate links, meaning we may receive a commission at no extra cost if you purchase through a link. Please see our full disclosure for further information.
Check out my Instagram page or join the Truly Expat Facebook group.
Pin it for later!
You may also like
"Unveiling the Best of Osaka: A Four-Day Journey through History, Culture, and Culinary Delights"
Exploring Osaka: 6 unforgettable activities and attractions await