Do you want to spend a weekend in Bali? Better still, do you want to spend very little time in traffic and a load of time exploring Nusa Dua and The Grand Hyatt Bali? Here is a review of the Grand Hyatt Bali and a collection of things to do at The Grand Hyatt Bali.
Things to know before you travel to The Grand Hyatt Bali
What to pack for The Grand Hyatt Bali
Swimmers, flip-flops or sandals, sunscreen, sunglasses and a hat
Light casual clothes for the day
sneakers
a good book
Lightweight casual clothes for nightly restaurants
camera
sports clothes
snacks
toiletries (the resort offers the basics in the room, so there is no need to bring everything)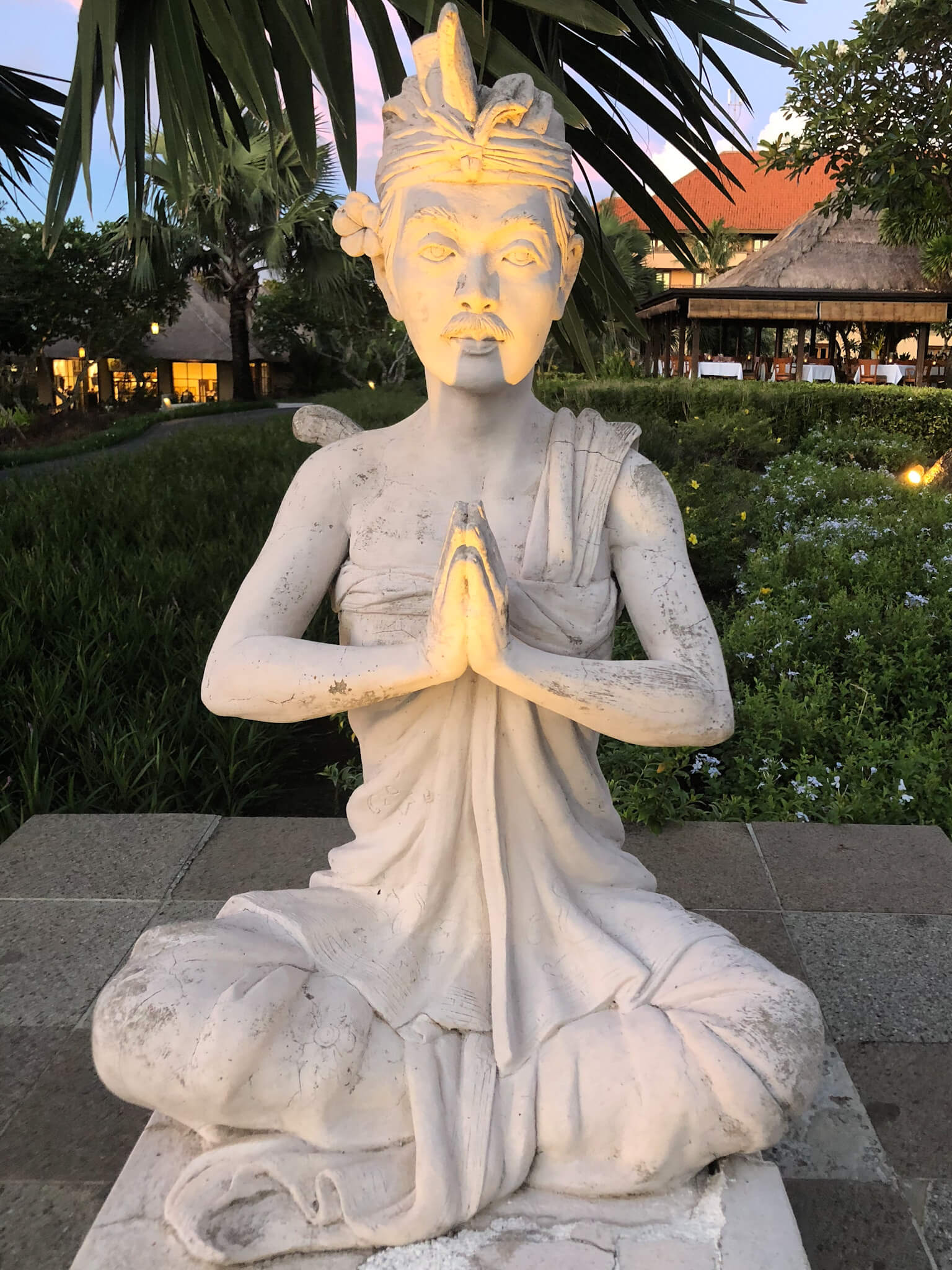 Getting to The Grand Hyatt Bali
The best part about the Grand Hyatt Bali is the location from the airport. The Grand Hyatt Bali is only an approximate 15-minute drive from Ngurah Rai International Airport.
Taxi – Taxies are easy to find at the airport. There are thousands of drivers touting for taxies around this area. Remember not to allow anyone to carry your bags unless you are willing to pay for their services. It can get busy around this area. Ensure that you have either agreed on a price before stepping into the cab or that the metre is running before you take off.
Hotel Car – The hotel car is the safest and most convenient option when travelling to The Grand Hyatt Bali. Either call ahead of time or email the hotel before arriving with your flight details.
World of Hyatt elite membership program
Earn 5 Base Points per $US1 spent that can eventually be redeemed for free nights or upgrades. You can also enjoy member rates, late check-out times and particular check-in locations. Members can also receive 1 World of Hyatt Bonus Point for every $US1 spent on qualifying American Airlines flights.
The Grand Hyatt Bali Accommodation
Grand Room with an Ocean View
The room was comfortable, and the view was amazing! Waking up to an ocean view refreshes your outlook on the day. Better still, it is far enough away from the beachfront that the room is quiet but close enough to enjoy the view.
Things to do at The Grand Hyatt Bali
The Outdoor Pools
The hotel has five pools, two waterslides, and a swim-up poolside bar. This means that the outdoor pools have both a slide for the kids and a relaxing tropical island feel for the adults, so you can sit by the pool and feel like you are in the middle of a Balinese oasis. Service by the pool is pretty good, considering how busy the hotel can be. Servers are walking around constantly, so you don't have to wait long to order your drinks. If you decide to book to stay at one of The Grand Hyatt Bali's Villas, you will have the luxury of swimming in your pool.
Kriya Spa
The word Kriya means to have "completed action", technique or practice within a yoga, in other words ", to achieve a specific result". Well, this spa does just that, the massage was terrific, and the facial put me in a state of relaxation from start to finish.
The experience was pure bliss from the time I arrived, and the lovely Grand Hyatt staff greeted me. Until I finished the treatment, we sipped our tea on the sunbeds. You will find The Kriya Spa open from 9 am to 9 pm daily (booking essential)
The Grand Hyatt Bali Beach:
The long white sanded beach and clear blue water make this one of the most stunning beaches in Bali. As the resort rakes the sand each morning at sunrise, this beach is a great location to watch the sunrise and the sunset.
Just remember that it gets scorching in the middle of the day, so ensure you cover up with loads of sunscreen. Also, you will need to grab your towel from the poolside because there are no staff on the beach to help.
Restaurants at the Grand Hyatt Bali
Salsa Verde
This Italian restaurant has a sophisticated feel and is located beachfront with an excellent view of Nusa Dua.
Watercourt Restaurant
The Watercourt Restaurant is where you will eat your buffet breakfast; here, you will find Balinese decor and a great variety of food spread out each morning.
Nampu
If you love Japanese cuisine, then you will enjoy this Japanese restaurant which includes a teppanyaki room for your enjoyment.
Garden Café
The Garden Cafe is an easy go-to option for the fussy eater who will only eat Western Food (they do have Asian dishes also). Here you will find this cafe open all day, including breakfast•
Pasar Seng
The stalls here sell a range of Indonesian food. At night The Pasar Seng will have a Balinese cultural show, which includes music and dancers to entertain you while you eat. Booking is essential as it is only open at night.
COOKING CLASSES
We booked into a personalised cooking class which was loads of fun. I love Indonesian food, and cooking some of my favourite dishes and then to indulge in them later was the highlight of my weekend.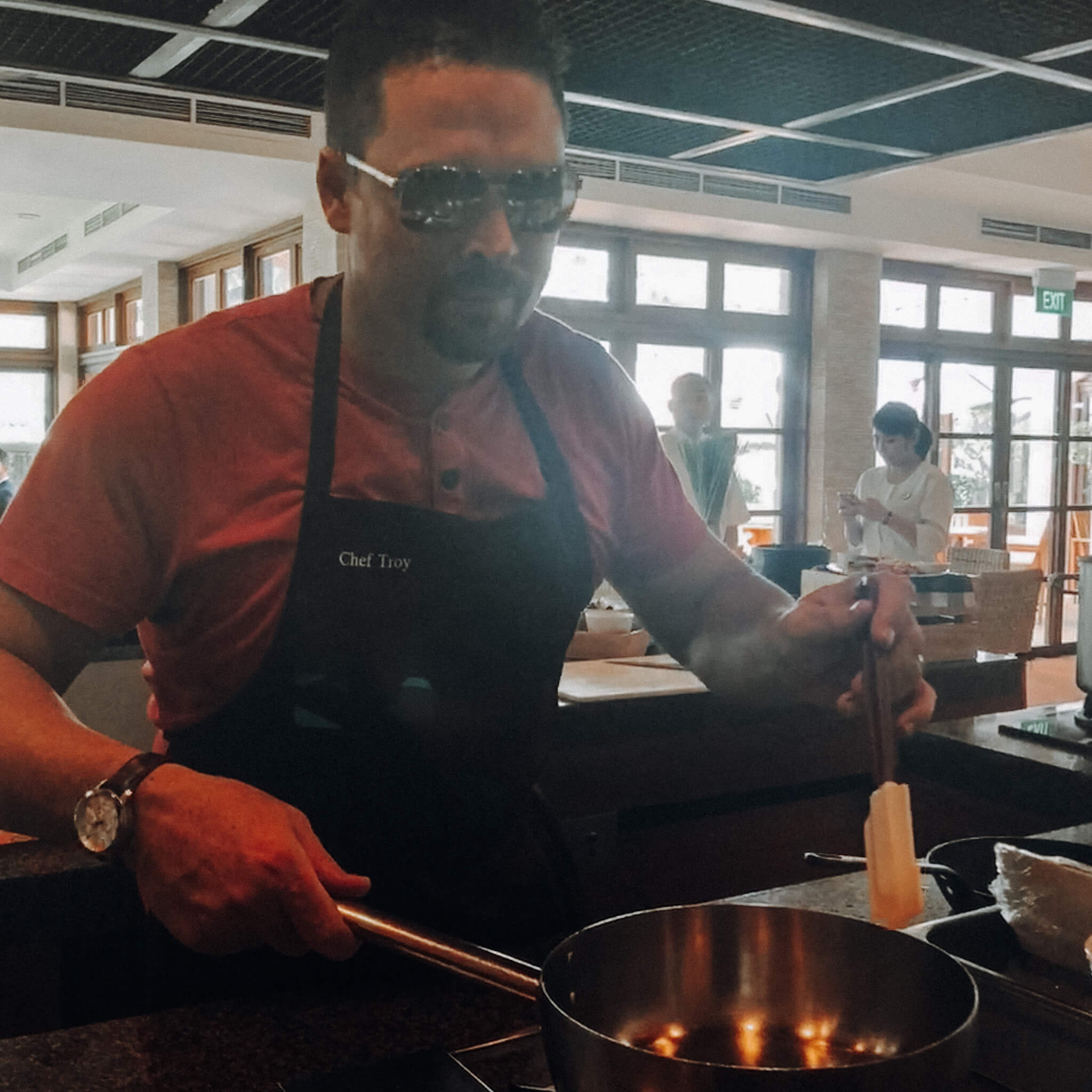 ACTIVITIES AT THE GRAND HYATT BALI
There is a range of onsite activities at the Grand Hyatt Bali. These include tennis courts, squash courts, a putting green, a jogging track, table tennis (table) and water sports at the beach. There is also The Bay Club Fitness and Health Centre, which is open 24 hours. The equipment in the fitness centre is standard, but you will also find yoga classes in the yoga studio, sauna, steam room, and plunge pool.
THINGS TO DO AROUND THE GRAND HYATT BALI
Do a little shopping at The Bali Collection.
The Bali Collection is a great shopping centre in Nusa Dua, just walking from The Grand Hyatt Bali. Here you will find food outlets and local shopping boutiques. If you have spent a long time shopping and your feet might be sore from all the walking around, a free shuttle bus will drop you at the Grand Hyatt Bali. The mall is open from 10 am to 11 pm daily, so it is an excellent excuse to pop over after dinner or to do a little retail shopping after splurging at one of the restaurants at The Bali Collection.
Jimbaran Bay
If you book one of the restaurants in Jimbaran Bay, they will pick you up from your hotel. This little part of Bali is a place we visit on every trip to Bali, no matter where we are staying. Why? Because if you love seafood well, then you will love Jimbaran Bay, where you will find a line of seafood restaurants on the beach (you sit on the sand to eat).
The evening starts when you pick your fresh seafood from the restaurant; they ask you how you'd like it cooked, then sit back down at your table at the water's edge and enjoy a cocktail or two. Buskers are always coming past (who will serenade you for a tip). Some restaurants will have Balinese dancers as well. It has always been a great night, with great food and a fun atmosphere.
Enjoy a drink at The Ayana Resort and Spa's Rock Bar.
Arrive before sunset to walk through the Ayana Resort and Spa grounds. There is an option to catch a lift down to the Rock Bar, but the line is long, but the choice is there if you need it. The view at sunset is fantastic, but it is also everybody else's choice, so you may find it hard to find a table—the view is worth the walk down to the rock bar.
Sit amongst the rocks in cool little caves and sip on cocktails while you listen to the music. There is no need to walk up to the bar as waiters take orders. The Rock Bar is approximately a thirty-minute drive from The Grand Hyatt Bali.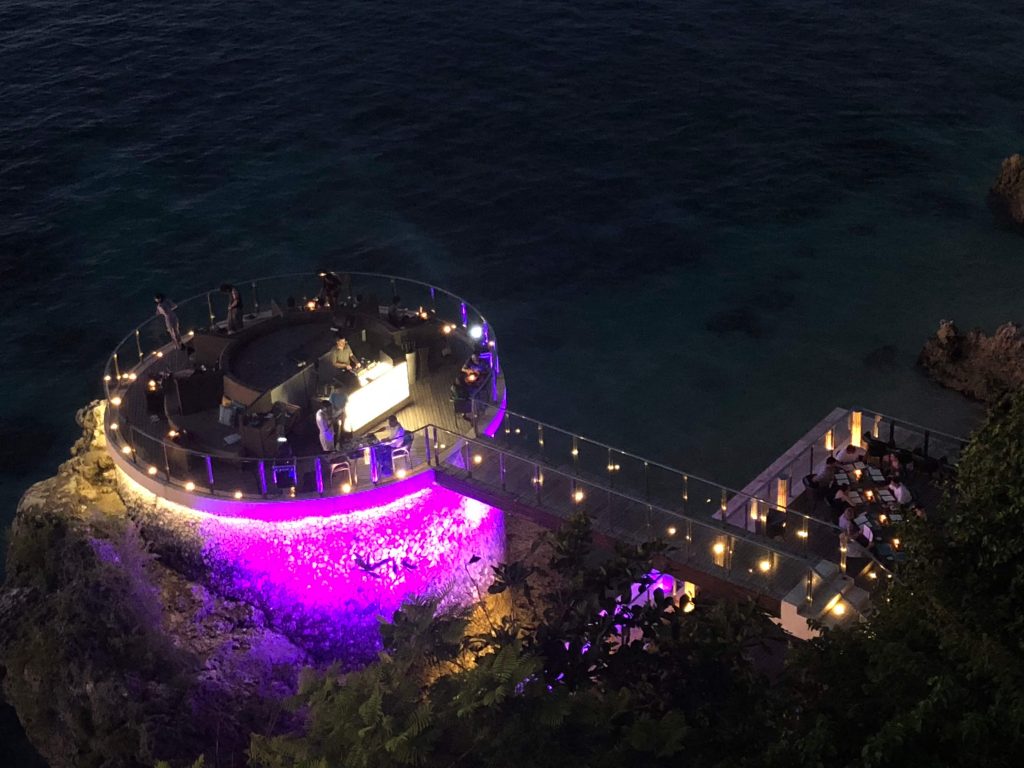 Spend the afternoon dining at the Mulia Resort and Villas
Although there are many great restaurants to choose from at the Mulia Resort and Villas, we decided to have lunch at the Edogin Japanese Restaurant. Every dish was delicious, and somehow the dishes got better with each serving. If you walk around the foyer, the architecture is impressive, and the hotel feels grand.
The atmosphere feels sophisticated (two women were playing the violin) so ensure you dress up a little for the occasion. The Mulia Resort and Villas is approximately a ten-minute drive from the Grand Hyatt Bali.
Take a little bit of Bali back with you.
My favourite location to buy homeware in Bali would have to be Jenggala Home; here, you will find homeware, textiles and furniture. This fantastic store was established back in 1976, and you will see why it has been around for so long. Each piece has a Balinese feel but with a modern twist to it that you will not find anywhere else in Bali.
The Nusa Dua store (yes, there are other stores found in Bali) is opened 8 am to 8 pm daily and is located at Jl. Uluwatu II, Jimbaran, Kec. Kuta Sel., Kabupaten Badung, Bali 80361, Indonesia, approximately a 20-minute drive from the hotel.
Enjoy fine dining at one of Bali's best restaurants.
Kayumanis Resto Jimbaran gets a 5-star rating from me. This restaurant is set in a beautiful location, and every dish had a surprising edge to it. Everything from the decor to the excellent service was an experience worth the splurge. Plates are small but artistically and beautifully arranged as well as being delicious. Ensure you book ahead of time so you will not be disappointed. This Indonesian restaurant is approximately a 25-minute drive from The Grand Hyatt Bali.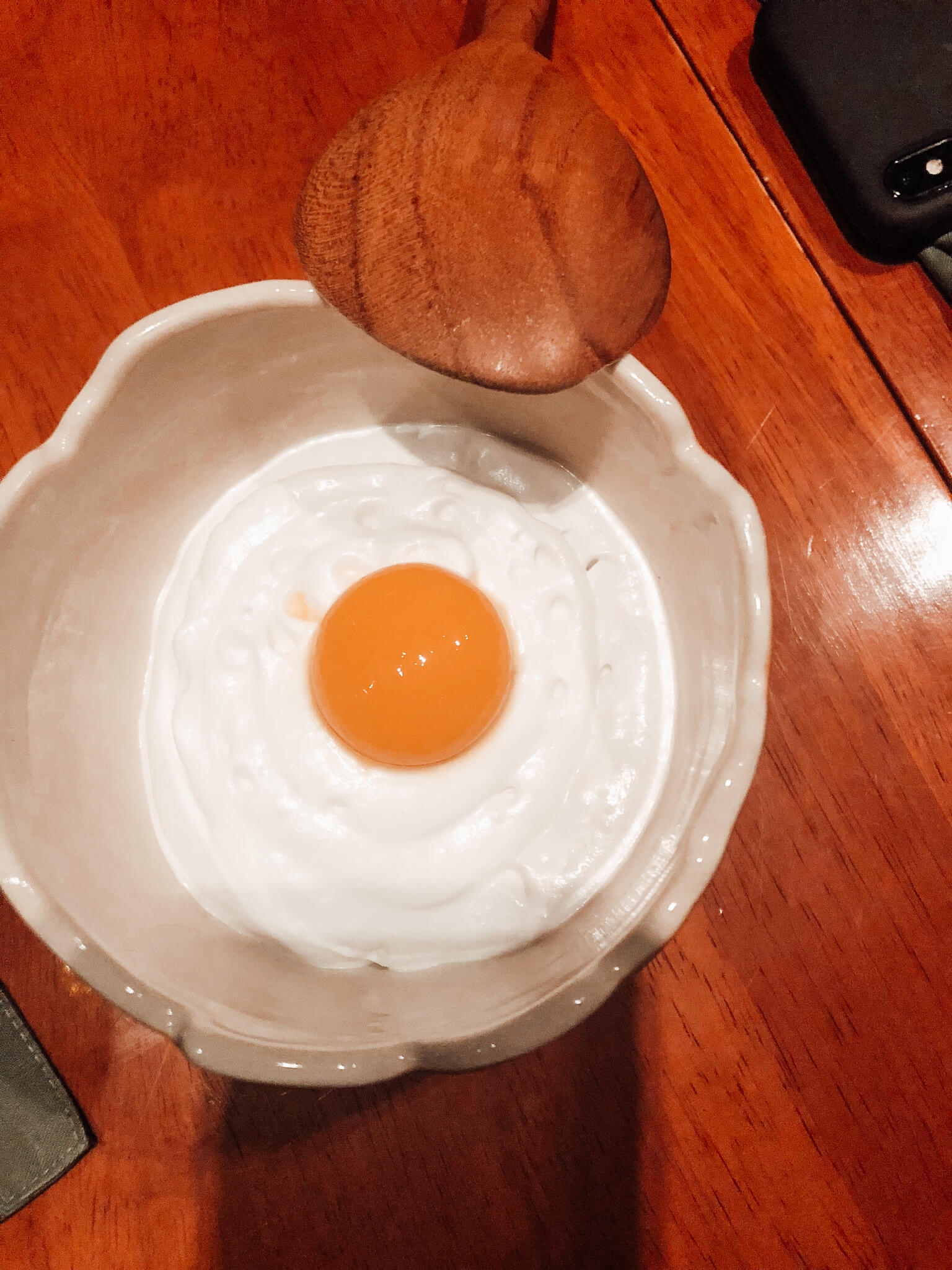 Would you like to read more about Indonesia?

Thanks for taking the time to read my blog. I hope this post has given you the information you need. If you have any recommendations, tips or advice, I would love for you to share them in the comment section below!
Other things you need to know
This post may contain affiliate links, meaning we may receive a commission at no extra cost if you purchase through a link. Please see our full disclosure for further information.
Check out my Instagram page or join my Facebook group.
Pin it for later!