San Francisco, USA
I am one of those people that love San Francisco. From catching a cable car to watching a basketball game, San Francisco has many exciting things and great places to explore. So here are my ten things to tick off your bucket list in San Francisco.
Things to know before you go to San Francisco
Visa
If you are not a US citizen, I guess you must apply for a USA ESTA. You can do that by merely checking out the ivisa website and applying online. It is as easy as that!
Insurance
SafetyWing is the world's first International Travel Medical Insurance developed to meet the needs of entrepreneurs and remote workers travelling or living abroad worldwide. I can not recommend travel medical insurance enough! For those who are going to be away for long periods, live and work abroad or on a short vacation.
Weather
With the rainy season falling from December to February and the driest months being May to September, San Francisco can be more refreshing than other places on the coast of California.
Hotel recommendation in San Francisco
Hilton Union Square
You can not fault the Hilton Union Square for its location, right downtown, within walking distance to catching the cable car and many other significant points of interest. However, although the hotel was clean, the lobby was huge, which made it noisy at all times of the day and night. 
Hyatt Centric Fishermans Wharf
The Hyatt Centric Fishermans Wharf is an ideal location for this part of San Francisco. The hotel is lovely and spacious with a sensational view and is within walking distance to the Alcatraz Departure point. There are many attractions in and around this area, so it is excellent for families who require lots of activities.
Palace Hotel
Who doesn't love old-world romance? The Palace Hotel is the oldest in San Francisco, so you feel you have stepped back in time with its luxurious interior, large indoor pool and an extensive list of famous guests; this hotel is excellent for a little splurge.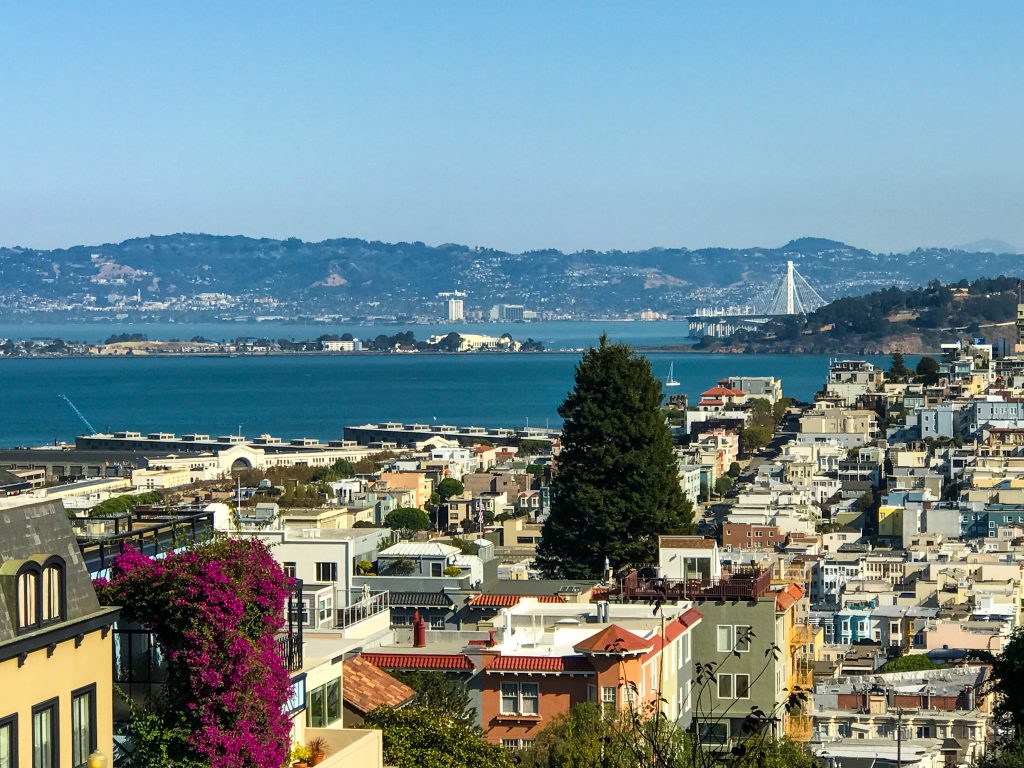 Things to do in San Francisco
Ride the cable car
You can not go to San Francisco without riding the iconic cable cars. Catching it from Union Square down to Fisherman's wharf or vice versa is all you need to get that Cable car fix. However, if you are like me and love the energy and entertainment of the conductor, then you will find yourself riding it again and again. Whether you hang off the side or sit inside, the experience is worth the ride from all angles. But be warned that if you go at peak hour, the lines are long (especially coming from Union Square in the morning). 
Cross the golden gate bridge
Whether you drive across it, walk, or bike, you must get to the other side of this incredible bridge. Hiring a bike is easy; head to one of the many bike rental stores in and around Fishermans Wharf and hire a bike for a few hours. Remember to take a jacket because crossing the bridge (even in Summer) can be windy. So check the weather report before you go!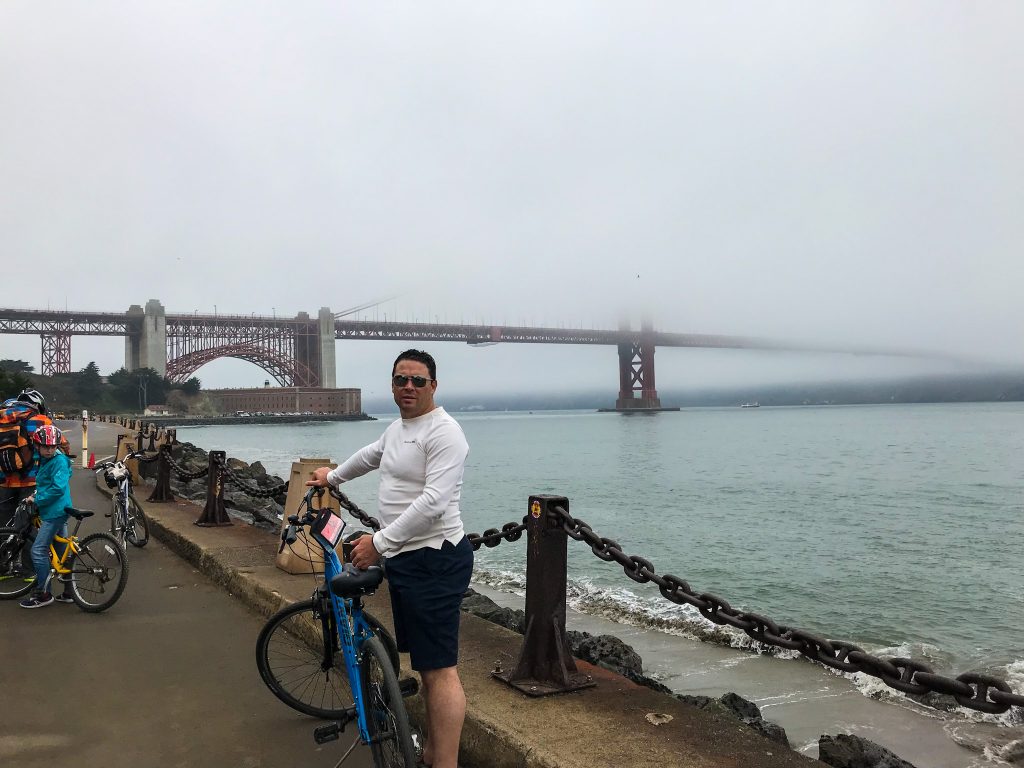 Explore Fishermans Wharf
Fishermans Wharf is buzzing with entertainment, local buskers, music playing and loads of people in and around this area. Check out the local Sea Lions usually spotted along Pier 39. These gorgeous animals are sunning themselves on the rocks around this area. 
Watch the Golden Gate Warriors play.
Whether you are a basketball fan, the atmosphere and entertainment are worth the experience. With the Chase Centre now their new home, there is no excuse. The tickets can be expensive, but if you are like me and don't mind sitting in the nosebleed section, you will enjoy every minute of it.
Try Clam chowder in San Francisco.
For me, a trip isn't a trip without trying the cuisine! So although you could probably find better places to eat this dish, we chose the iconic Tarantino restaurant (which is now closed)  that had been serving customers since it opened its doors in 1946. But don't worry. There are many other places at Fisherman's wharf offering the famous clam chowder.
Have lunch at the Barrel House Tavern in Sausalito
This little town has jumped straight out of a movie screen. Or perhaps the making of a song like "(Sittin' on the) The Dock of the Bay". Sausalito is a quaint little town full of boutique shops and gorgeous-looking waterfront restaurants. So after wandering through these charming streets and checking out the fantastic view. Head to Barrel House Tavern for a delicious lunch with a great idea. Or go for a bike tour around this fantastic little seaside village.
Have a glass of bubbly at the top of the Marriott Marquis
Why not stop by for a drink and enjoy a fantastic view in the meantime? The view lounge (rightly named, by the way) has a 360-degree view of the incredible skyline of San Francisco. You will find the San Francisco Marriott Marquis at 780 Mission Street. You will not be disappointed with the view! 
Go Op shopping in Haight-Ashbury, San Francisco.
For some, you may call it thrift shops, but for this post, let's say let's go vintage shopping! Haight-Ashbury is known for its hippyish feel, and they are not wrong. From bell-bottom pants and long shoulder-length hair to the odd whiff of marijuana, you could be mistaken by thinking you have been teleported back to the '70s. Nevertheless, it is a fab place, definitely worth a visit.
Be inspired by Mario Puzo and write your own (Godfather) novel.
Sit and have lunch at the Caffe Trieste, where you can drink plenty of coffee. The Caffee Trieste was the first espresso cafe on the west coast and remains busy. So sip on your cappuccino and be inspired by the many photos around the wall. You may recognise this Caffee Trieste from its many appearances in movies, tv shows and magazines, so sit back, relax and enjoy the hustle and bustle this cafe offers. 
Dip your feet in the ocean at Ocean beach
Yes! It is true; the water is like ice. Due to the fog caused by icy Pacific water reaching warmer air, this area often causes a chilly ocean breeze. Dipping your feet is all I recommend because not only is Ocean beach water freezing, but it also has strong currents, so it makes swimming dangerous. You will find Ocean beach adjacent to the Golden Gate Bridge, a short distance away in the Richmond area. 
Take a trip to Alcatraz during the day or night.
For me, Alcatraz during the day was creepy enough, but when the sun goes down, I would imagine it would be an entirely different level of eerieness. But if you are up for the challenge, book your evening tour online well in advance because bookings fill up quicker than you can imagine. Likewise, I would highly recommend booking early for the day tour unless you want to book a tour that includes Alcatraz and costs you a small fortune (Yes, a rookie mistake, I know). 
Visit the world's most crooked street.
Lombard Street is famous for just that, being crooked. You can walk beside it, drive down it or admire it from the top or bottom; you can experience this weird and wonderful street any way you like. There have always been many tourists taking photos of this street every time I have visited it, and once you are there, you can see why. 
Walk the self-guided famous house route.
We all love tv sitcoms, especially such shows as "full house"! So why not walk (or drive) the many famous houses that are featured in movies such as "Mrs Doubtfire" and "Pacific Heights"? Or perhaps wander along and view the homes that celebrities past and present have owned. If you don't want to do it alone, check out the tour here.
Visit the oldest Chinatown in America.
First established back in 1853 and later named Chinatown by the press. Chinatown has everything you could imagine, from trinkets to restaurants and fresh local produce to massage shops. It is a mini (and somewhat westernised) version of what you would find in the streets of China. Want to know more? Check out the walking tour here.
Visit Muir Woods and measure yourself against the Redwood trees.
The Redwood trees are native to California and can be far from San Francisco in Muir Woods. There is a display of the different types of Redwood trees here, which is impressive. The Redwood trees are enormous, with the tallest one reaching 258 feet (79 m).
Try an in-out burger in San Francisco.
You can try an in-out burger almost anywhere in the Us; however, if you haven't already, why not start here? The lines are long; however, are they worth it? Well, I will let you be the verdict on this one.
Order a "Joe's special" at "The Original Joe's" 
Although the area of North Beach is informally known as Little Italy, this can be somewhat confusing. Why? Because North beach was once a fishing village with many Italian immigrants, today, the shoreline has extended, so this area has no beach in sight; what it still has, though, is an Italian feel. So why not stop by and try one of the many Italian cafes, restaurants or delicatessens? While you are here, book into "The original Joe's" and order a "Joe's special", and while you are there, try the lasagne. You won't regret it.
Take a trip down memory lane and visit Joe DiMaggio's beloved San Francisco.
St Peters and Paul's Church is where he married his first wife, took photos in front of the church with his second wife (Marilyn Munroe) and later had his funeral. Go inside this beautiful church and enjoy its serenity. The DiMaggio family lived within walking distance at 2047 Taylor St in a small unit. The North Beach playground (renamed Joe DiMaggio playground) is where he and his brothers were seen playing hours of baseball as kids.
Be inspired by google.
Take a tour of Silicon Valley, where you get the opportunity to see the google campus (and yes, it is impressive), take a photo of the iconic "Facebook" logo and tour downtown Palo Alto where you bring out your inner techy! Visit b8ta, where you can try out the latest inventions from start-up companies. Purchasing their products is an excellent start to getting their gadgets on the market, a cool concept with great incentives. This tour would not be complete without a stop at the Computer History Museum, where technology began to where it is now.
Take a ride on the "hop-on, hop-off" bus.
Taking the hop on, hop-off bus in any city is a great way to get your bearings. It allows you to understand where all the locations are that you will eventually want to explore. It also gives you the highlighted version of places you might not want to visit but want to drive past. 
I could have written a million other locations and things to do, and I found it hard to concentrate on just 20 because San Francisco is an exciting city with so many places to explore!
Thanks for taking the time to read the blog. I hope this post has given you the necessary information you need. If you have any recommendations, tips or travel advice, I would love for you to share them in the comment section below!
Other things you need to know
This post may contain affiliate links, meaning we may receive a commission at no extra cost if you purchase through a link. Please see our full disclosure for further information.
Check out my Instagram page or join my Facebook group.
Pin it for Later!
Would you like to read about similar destinations?