Due to the 2018 closure and beach cleanup, the lack of tourists between 2020-2022 and the new beach regulations, Boracay is at its best right now. So much of the coral has been restored; the beaches look as white and pristine as ever, the water is crystal clear, and the people are warm and friendly; while the holiday destination is affordable, it sounds like the perfect recipe for a fantastic holiday destination in 2023 to me. 
How to get to Boracay
To fly from Singapore to Boracay, you must take a connecting flight via Manila. Philippine Airlines, Cebu Pacific and Air Asia fly there, but you must fly to Kalibo or Caticlan Airport. If you arrive at Kalibo airport, it is a 2-hour bus or car ride to Caticlan jetty port; however, if you arrive at Kalibo airport, then it's only an 8-minute trip to the jetty. 
From the jetty, you can purchase a ticket online or organise a private transfer unless your hotel has a transfer to travel to Boracay island.
Things you should know before you get to Boracay
Weather
The weather in Boracay in February ranges from 24°C to 29°C, which makes it the perfect time to visit this beautiful island. However, it does get busy at this time of the year, especially for those from colder climates seeking a warm destination getaway. 
Visa for the Philippines
Check that you do not require a visa for The Philippines. The ivisa website is a quick and easy way to check whether your passport requires a permit.
Travel insurance for Boracay
SafetyWing is the World's first International Travel Medical Insurance developed to meet the needs of entrepreneurs and remote workers travelling or living abroad. However, if you do not fall under this category, do not worry; SafetyWing also suits all vacation types.
Tipping in Boracay
Tipping is usually not expected in Boracay, but the locals greatly appreciate it. If you want to leave a tip because the service was excellent, you should do so. Although tipping isn't necessarily expected, tour guides expect a little something for their effort. 
What is the language in Boracay?
In Boracay, they speak Tagalog, Filipino, and many other languages. However, English is widely spoken on the island. 
What is the currency of the Philippines?
At the time of posting this article, it is 40.88 pesos per 1 Singapore dollar. 
What is there to do in Boracay in three days? 
Plenty to keep you busy, and this Boracay itinerary will be scratching at the surface of what this beautiful island has to offer. 
Day one of your three-day itinerary: Relax on White Beach 
Spend the entire day enjoying the sun, the surf and water activities on White Beach. There is a reason it is called White beach, and that is because the sand is white; I have been to many white sand beaches, and this is one of my favourites. White beach is divided into three stations, 1.2 and 3, and walking the length doesn't take long. Station one is quieter; it has Willy's Rock, the most photographed landmark in the area. Station 2 is busier, with many more things to do, it is where you will find most of the entertainment and restaurants, including D'Mall and station 3 is quieter than station 3, and accommodation tends to be more affordable. 
You name it, Boracay has it, from Tandem parasailing to jetskiing. Some cruises allow you to snorkel, while others are there to catch the sunset. So if you like flying doughnuts or floatable bananas, Boracay has it all and is one big water playground for you to enjoy. 
Evening: There is nothing quite like a sunset cruise in one of the most beautiful places in the World.
Day two of your three-day itinerary: Action-packed day out
The morning starts with a scuba diving course. If you have never been scuba diving before, not to worry because you can take an introductory course. You will learn to dive to 6 metres within the 3 hours in one of the most amazing places in the World. 
After lunch, head out for an action-packed afternoon; start with a ride on an ATV, enjoy an afternoon ziplining and then head out, Kayaking on the Nabaoy river, with the final destination being a soak in Kawa hot bath. 
Evening: Spend an early evening dining out at one of the many restaurants in station 2 or your hotel. You have had a big day out; you deserve it. 
Day three of your three-day itinerary: Boracay Island Hopping
You can only visit an island such as Boracay and discover its surroundings. So today, you will spend four hours island hopping and snorkelling in some of the most pristine water you will ever see. Most tours visit the islands of Crystal Cove, Crocodile Island, Magic Island and Puka Beach. 
If you still have some energy left in the tank, why not spend the afternoon learning how to kite surf? This two-hour kite discovery course will allow you to try first-hand why so many people in Boracay love it. You will be given an internationally recognised certificate at the end of the course. 
Evening: As it is your last night here in Boracay, you have two options, spend the night bar hopping on a pub crawl, or if you are exhausted from the big day you have had today, head over for a massage (there are plenty to choose from here) and then dinner at one of the restaurants ending with a stroll along the beach.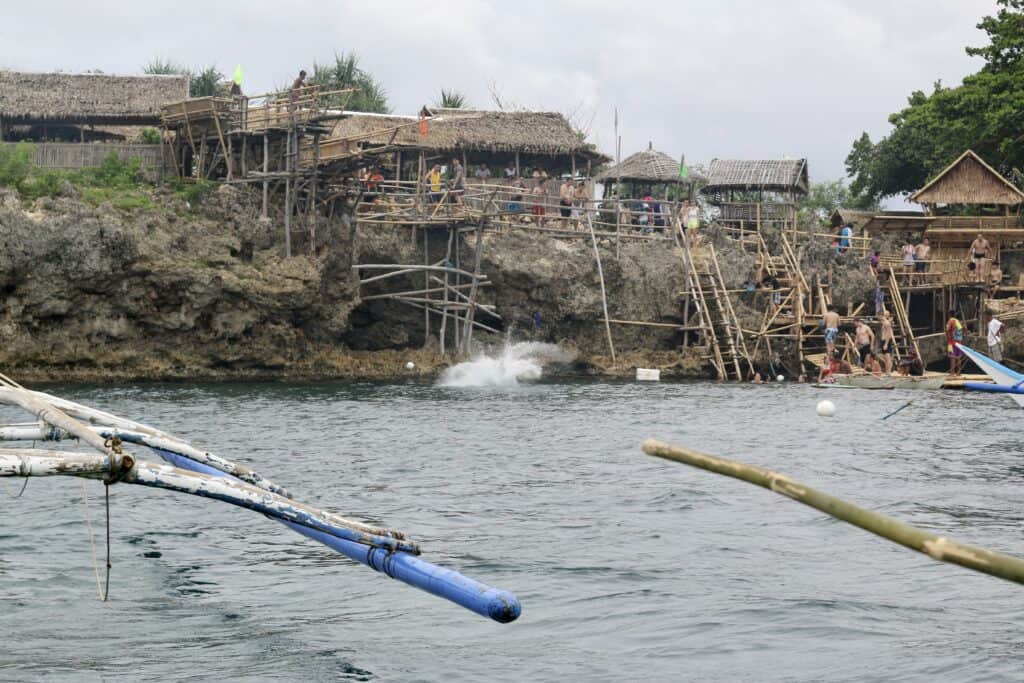 Accommodation:
Splurge
Shangri la Boracay
Shangri la Boracay has a dedicated beach and its own boat to get you to the island (and waiting room), which feels like pure luxury. The resort is a place you could stay the entire time. It has everything you need on vacation, from luxurious restaurants, amazing views, a relaxing spa, a refreshing pool and a beach with nighttime music. This resort is pure luxury and worth the splurge. 
Budget
Two seasons Boracay
When it comes to Budget accommodation in Boracay, there is plenty of much more affordable choices. However, Two Seasons Boracay is in the perfect location in station 3, just close enough to walk down to station 2 but quiet enough to be peaceful and relaxing. The rooms are clean and comfortable; however, the interior is more rustic, making you feel like you are on an island, not a resort.
Thanks for taking the time to read my blog. I hope this post has given you the information you need. If you have any recommendations, tips or advice, I would love for you to share them in the comment section below!
Pin it for later!
This post may contain affiliate links, meaning we may receive a commission at no extra cost if you purchase through a link. Please see my/our full disclosure for further information.
Check out my Instagram page or join the Truly Expat Facebook group. 
Would you like to read more about Island Destinations?